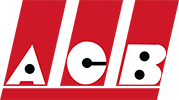 Welcome to ACB Company
French manufacturer of safety tools
We are a french manufacturer of hand safety tools. Our tools are non-sparking, spark reduced, spark-resistant or spark-proof. We make our products in three alloys : copper-aluminum alloys (aluminum bronze), copper-beryllium alloys (beryllium bronze) or titanium alloys. The company offers a wide spectrum of non sparking tools that include spanners, hammers, striking wrenches, screwdrivers, chisels, pliers, caulking tools...
Aluminum-Bronze (AlBr) or Copper-Beryllium (CuBe2) alloys for safe use in Ex zones where hazardous, flammable or combustible vapors, liquids, dusts or residues may be present. Our products are specifically designed to eliminate the risk of sparks at sites where explosive atmospheres may be present.
Appropriate applications include oil drilling platforms, petrochemical plants, oil refineries, natural gas installations, ammunition plants, varnish factories, sugar refineries, grain silos, mining and other industries where non-sparking safety tools are required. The non-magnetic feature of these alloys also makes them ideal for working on special machinery with powerful magnets such as MRI machines, military de-mining and explosives.
Our products are nonmagnetic and highly corrosion resistant. Our safety equipments can be used of ATEX directive for use in Zone 0, 1, and 2.
Our customers
Our safety tools are used by:
Petrochemicals
Refineries
Gas and oil pipe lines
Power stations
Paint manufacturing
Plastic manufacturing
Pharmaceutical industry
Fire-fighters
Distilleries
Breweries
Aerospace industry
Automobile industry
Weapon and ammunition fabrication
Navy
Flour silos and mills
Chemical industry
Air force
Defense
Alcohol processing industries
Mines
Fireworks industry